Published Monday, 09/12/16 01:15pm - Expires Wednesday, 10/12/16 01:09pm - (1217 Reads)
MADISON NEIGHBORHOODS | MIDVALE HEIGHTS
Midvale Heights: 'I can't think of another place I'd like to live'
By ED TRELEVEN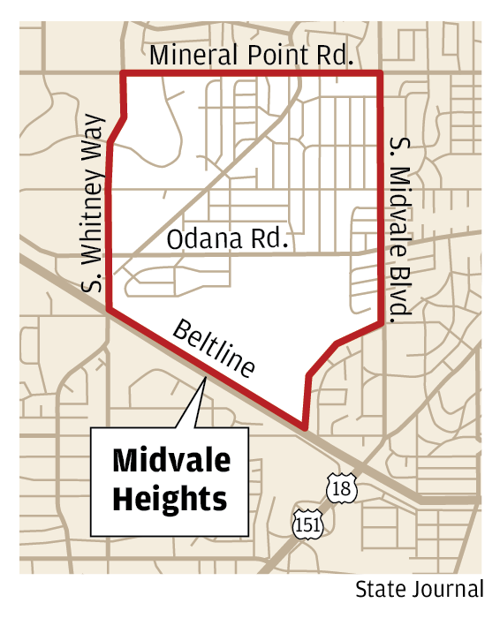 The thing that gets everyone's attention, as they approach the Midvale Heights neighborhood from the south along Midvale Boulevard, are the bison.
Not real ones, though it's possible that hundreds of years ago, some trod the spot where their concrete cousins now perch.
The spot, called Bison Prairie Gateway, was built by the neighborhood as a reminder of what occupied the land where mostly ranch and split-level homes now stand.
Much of it was oak savanna. Later on, a good chunk was farmland owned since the mid-19th century by the Piper family. The Pipers also owned businesses in central Madison that included hotels, restaurants and vehicle dealerships, and they built the 11-story Belmont Hotel on the Capitol Square, owned since 1968 by the YWCA.
Houses began going up in 1947, and the area was soon annexed to the city of Madison. New developments steadily added homes to the neighborhood until 1970, and University Research Park plats were added in 1984 and 1988.
Jean Sweet came to the neighborhood in 1953. After World War II, the local housing market was tight. A house on Piper Drive that she and her husband Charles had their hearts set on — which had a living room window that looked toward the Capitol, at the time still visible in the distance — had been snapped up.
But soon they connected with a young builder who owned three lots on Woodside Terrace, she said, and they had their home. In those days, there was still a wooded area and a cow pasture nearby, and Midvale Boulevard was a dirt road.
"We had no vision for what this was going to be," Sweet said. "But a lot of people did. So, Midvale Heights was what happened."
The Sweets were drawn to Midvale Heights from Madison's East Side, looking for a house that had a yard for their daughter, who would soon be joined by a brother. Charles Sweet died three years ago, but Jean Sweet, now 91, still lives in the home.
"I still live here because I love the neighborhood," she said. "I love my home, always have. I can't think of another place I'd like to live."
It was a similar story for Ed Rogers nearly 60 years later. He and his wife, Sarah, were renting on the East Side, but about 4½ years ago started looking for a house that had a yard for children to play in. After searching other neighborhoods, they found their house on Tocora Lane.
"I'm infatuated with the neighborhood," Rogers said. "I just love it."
Rogers soon became active in the Midvale Heights Community Association, and since January has been its president. He said the neighborhood has a great mix of younger couples with children, empty nesters and some like Sweet who have been in their homes since they were built.
Midvale Heights neighborhood
There are also plenty of parks for the kids, he said, and the neighborhood hosts events and activities that appeal to families. There are concerts at Segoe Park in the summer. The neighborhood has a big picnic in Oak Park Heights Park each June. And teams of volunteers work together on neighborhood beautification projects.


In 2000, Sweet said, the neighborhood re-landscaped the fading Tokay Boulevard median, planting trees and flowers using volunteers and some help from the city. Two years later, the neighborhood dedicated the Bison Prairie Gateway at Midvale Boulevard and the Southwest Commuter Path. Sculptor and neighborhood resident Bill Grover designed the two bison, which volunteers helped build. The bison sometimes wear holiday-themed hats.

Today, Midvale Heights is Madison's largest neighborhood in land area at 857 acres. According to the 2010 census, 3,479 residents lived there. Eighteen percent were 65 or older, making its population among the oldest of city neighborhoods. About 20 percent were under 18. It's mostly white, at about 84 percent of residents. About 85 percent of homes are owner-occupied.

Crime was a recent concern in the neighborhood. A rash of home burglaries in 2014 re-energized the neighborhood watch program, now led by Steve Fitzsimmons, who said the crimes were "a wake-up call."

Regular neighborhood watch meetings at the Midvale Community Lutheran Church include presentations not only on crime prevention, but on severe weather preparedness and urban wildlife. Fitzsimmons also keeps neighbors apprised of the latest crime in the neighborhood through emailed alerts.


Just on the horizon, Rogers said, is the fate of Westgate Mall. The mall, which opened as a shopping plaza in 1960 and was enclosed years later, could be razed under a preliminary plan proposed by a developer hired by its owner, HyVee grocery stores, and replaced with four smaller buildings. Housing could be added later.

Rogers said he is hoping that the neighborhood will be involved in the project, and said that a joint Midvale Heights-Westmorland neighborhood plan completed in 2009 envisioned pedestrian-friendly development at Westgate that is less parking lot-centric.

"It's early days," Rogers said. "We haven't heard from all of the neighborhood and everything the developer has had to say."